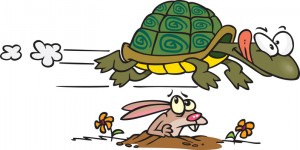 If you're a newbie entrepreneur, read the title once again (and then again, just for good measure).
This post is dedicated to YOU.
Let's start with the last part first. 
Be Patient
The Parthenon wasn't built in a day, agreed?  It took about fifteen years to construct this Greek temple.  Let's hope it doesn't take you that long to build your business … but it does take time.
The temple was dedicated to the goddess Athena Pallas or Parthenos (virgin).  As a newbie entrepreneur, consider yourself a "virgin".
Most highly successful entrepreneurs will openly admit to working through a minimum of two years of business construction time.
If you're looking for instantaneous gratification and a bulging bank account, I recommend employment in the world's oldest profession … which, by the way, is NOT entrepreneurialship.
Glue Your Wallet Shut
This part probably doesn't need much of an explanation, especially if you've already spent your entire savings on products, programs, and coaching that led you by the nose to never-never land. 
You know – that place where you never make any progress and never make a dime. (Oh, did I hear you say you've been there?) 
My condolences — I've been there, too.
I'm not implying you should never invest in learning how to grow your business.
I'm suggesting gluing your wallet shut until you discover the "right" services, tools, programs, and people that can help you reach your business-building goals.
Spending money spinning your wheels will only make you dizzy … and broke.
Observe and Take Notes
Find others who do what you do and pay close attention to how they're doing it.  Doing it "successfully", that is.  And for heaven's sake, take notes!
Whether you're blogging for business, doing affiliate marketing, small business coaching, consulting, speaking, creating information products, developing programs, website designing, freelance writing, or selling handmade items – there are others out there who are rockin' it in your niche!
Don't just read their blogs – become a part of their loyal readership.
Don't just click the "Like" button on their Facebook pages – post comments and ask questions and show a genuine interest in their updates.
Don't just Re-Tweet their Tweets – join in their Twitter stream conversations and hashtag parties and weekly social media meet-ups.
You get the idea. 
Learn by befriending, networking, showing up, and participating.
Yes, observing and taking notes requires time, energy, and effort.  But the rewards can make all the difference in the world. 
There's a payoff in paying attention.
Let's visit "Be Patient" again
Tough assignment, isn't it?
Everyone would love to experience the joy and the monetary rewards of instant success.  But instant success is an illusion.  Yes, a few people have experienced it along the way but it's far removed from most entrepreneurial reality.
I don't know about you, but I think it's a much better idea to stick to what reality has to offer rather than the sparkle-clad promises of fame and fortune in fantasy land.
No matter what type of business you're building, plan to wear your "marketing" hat every day. 
Marketing is a must.
You can haphazardly rush through your marketing every day and make it a mish-mash of a mess.  Or you can patiently (and profitably) approach it through Slow Marketing. (Remember the story of the tortoise and the hare?)
Well, you've probably been waiting for me to say it, so here goes:
I only wish someone had laid this kind of advice in my lap when I first came online.  It would have saved me loads of headaches, hassles, hard-earned dollars, and heartache. 
So, newbies, please take what I've shared with you to heart – glue your wallet shut, observe, take notes, and be patient.
 ********************************************************************
This post is part of the monthly Word Carnival series of posts. This month, our carnies are exploring the theme of Time Travel, specifically: from where you are now, what one piece of advice would you go back in time to give yourself on your first day in business? Check out more of the Word Carnival series at WordCarnivals.com.