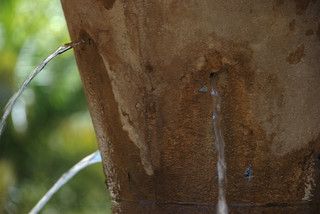 These three varied professionals might be on the same bowling league or they might even support the same charities or maybe all three love coffee. 
Who knows? I don't have a clue. 
I didn't pry into their personal lives.
But when I was introduced to these creative, hard-working, and highly-skilled gentlemen to give them some tips on promoting their work, it was very clear what they had in common …
"Leaky bucket marketing" – their shared nemesis.
I've never seen marketing buckets with so many holes!
The biggest and most apparent hole for the house painter, author, and musician in question?
The gaping hole of online marketing — how to spread their awesomeness around the internet and ways to boost their online visibility and credibility.
A marketing bucket with a really large hole is, obviously, not functional.  It serves no purpose.  Won't work.
So how do you fix leaky bucket marketing?
First, let me toss a big fat caveat into the bucket (Or you can call it a "brief commercial break", if you like).
I don't "teach" online marketing and I don't "perform" online marketing activities for solopreneurs or small business owners. 
My tent is pitched in the "consulting" camp.
Got a question?  I'll answer it.  Looking for a resource?  I'll provide it or I'll find it.  Need a marketing plan?  I'm your gal.  Don't know how to use social media?  You're not alone.  I'll be your guide.
[End of caveat]
I hope that announcement gave you enough time to run to the kitchen for a tasty snack.
Now back to vanquishing leaky bucket marketing — specifically, repairing a gigantic hole in online marketing.
The following three items are needed to repair the hole:
1.   1.)  Online Marketing Brainstorming Sheet
Your next great marketing strategy may hit when you least expect. Use electronic means or a simple sheet of paper to keep notes of any strategies you want to recall and possibly implement. 
When an idea strikes, write it down!
2   2.) Online Marketing Calendar 
Leave the mystery out!  Create an annual or monthly calendar and fill in specific marketing activities you plan to work on every day. 
Time and Date is a great resource for free calendars. 
Examples of online marketing activities:
 Get listed in small business directories




 

Write article and submit to article banks

 

Create social bios

 

Promote with video

 

Create page at Google+, LinkedIn, Facebook

 

Post in online forums

 

Create an online photo album

 

Write testimonials for other businesses

 

Create an ideal client/customer board on Pinterest

 

Start a Google+ hangout

 

Create free auto-responder e-course

 

Generate blogger buzz

 

Get listed in blog directories

 

Create a Power Point for Slideshare

 

Get listed in geo-targeted directories

 

Write and distribute a tip sheet

 

Write and distribute a viral e-book/manifesto

 

Present a teleseminar

 

Add mp3 of teleseminar to your website and/or itunes

 

Register at Amazon and review books

 

Support an online cause

 

Record a podcast

 

Upload podcast to Sound Cloud

 

Get listed in niche directories

 

Start a free internet radio show

 

Get listed in shopping sites

 

Build a Squidoo lens

 

Create your website press room

 

Create an online newsletter

 

Get listed in ezine directories

 

Post comments on blogs in your niche
3   3.)  Online Marketing Plan
No need to create a lengthy complicated document. Use the K.I.S.S (Keep It Super Simple) principle to design a plan that's easy to understand and easy to implement.
Not sure where to begin?  No problem. 
Let's pretend YOUR nemesis is leaky bucket marketing and you've hired me to be your marketing consultant. (Of course, you can't hire me to fix that leak unless you have a sense of humor and you like to have fun. I won't work with a stick in the mud.  That's my rule and I'm sticking to it.) 
As part of your initial consultation …
I'm gifting you your very own Online Marketing Plan Template. (No opt in required)  Rumor has it online marketing consultants are in abundance these days so this is my way of saying "thank you" for choosing me.
Wasn't that fun?!  We just met and you're going home with a present … and a marketing bucket with no leaks.
The professional house painter, published author, and accomplished musician I consulted with also went home with special presents. 
I love a happy ending … and a happy client.

Name your nemesis in the comment box and we'll work together to vanquish it!
This post is part of the awesome Word Carnival. Read more posts on this month's theme: Vanquish Your Nemesis: A Guide to Conquering Small Biz Evils