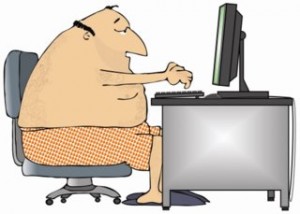 We'll soon be arriving at the halfway mark of this season's Ultimate Blog Challenge.
If you're a participant in this event, I wanted to check in with you to see how you're doing.
This is not my first blogging challenge and I'm more than aware of the highs and lows of making the commitment to craft 31 posts in 31 days.
How are you holding up?
Are you still as excited as Day 1?
Do you have lots and lots of ideas and topics to blog about?
Are you staying on track or falling behind?
Are you feeling energized or overwhelmed?
If, by any chance, you feel as if you're "pushing" yourself to get a post written or staying up late at night just to "get it done", that's not good.
If blogging every day is starting to feel more like a "chore" than an exhilarating challenge, it may be that you need to re-vamp your strategy or tap into some easy, creative ways to get a post on the page!
If you're struggling along or feeling somewhat bogged down or in a blog fog, here's what I'd suggest: