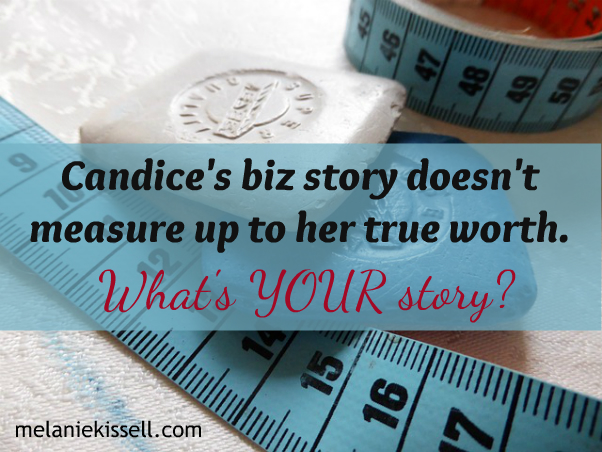 Candice is a masterful seamstress.
She can design or alter a garment, exquisitely, to custom fit your body. Short torso, wide hips, long arms, square shoulders, thick waist, flat rear — doesn't matter.
Nothing is a challenge for this sewing wizard.
Whatever your body type or wardrobe issue, Candice's exceptional talents are guaranteed to solve your problem and make you look and feel like you're donning high-end designer apparel.
Yeah, she's THAT good.
And speedy, to boot.
She can hem a fancy schmancy prom dress in record time! Seems she's called upon for these last-minute [sewing] emergencies every year … and she pulls through with grace.
Same goes for brides and their wedding gown emergencies. Candice has been known to show up at the church, needle and thread in hand, ready to work her wizardry and save the day.
With all the tailor-made miracles Candice produces, she has one BIG problem — her story.
The story she tells herself about her work is borderline dismal and it shows in her marketing.
When you visit her website, her blog and About Page leave the impression she's a plain Jane who just happens to know how to run a sewing machine. Too bad, cause she's SO much more than that!
Sadly, she's been telling herself her work isn't anything special; just ordinary and uninteresting.
But you and I know that's not true.
Do you see any part of yourself in Candice? Maybe your story isn't painting a true picture of your gifts and your worth. Maybe you're leaving your target audience with a skewed impression.
Would you love to learn how to tell better biz stories?
I'm talking about stories that enrapture your prospective clients or customers, speak straight to the heart of their challenges, and entice them to choose you over your competition.
If that sounds like something you, your biz, and your bottom line can benefit from …
My amazing friend and colleague, Tea Silvestre Godfrey of Story Bistro, is hosting her second annual Storytelling Soiree in Portland, OR, the weekend of August 8th and 9th and I'm nudging you to attend!
Here's the thing:
If you can't attend in person, Tea's got you covered. You can grab a virtual ticket and attend from anywhere — poolside, your couch, home office, kitchen table, or even your bed.
And to make this event extra sweet:
Tea is offering you, my dear reader, 25% off the ticket price when you reserve your spot before July 1st. At checkout, just use the code, MELANIEPAL25, for your exclusive discount.
I'll be a virtual attendant this year. I was super excited about making the trip to Portland when I got the surprising news of a new California grandbaby on the way. So I'll have my bags packed here in Arizona and be "on call" for labor coaching duty (and a long drive).
Just hope the baby waits till the Storytelling Soiree is over. It's a one-of-a-kind event created by a one-of-a-kind storytelling genius and I can't wait!
Scope out the details today and don't pass on the opportunity to tell better biz stories. Those stories begin with YOU and an understanding of your primary business story type.