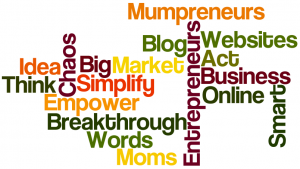 Taglines are tough.
Just my personal observation — no case studies, analytics, or scientific data to back it up.
I believe crafting your elevator speech or developing your unique selling propostion is a hundred times easier than creating a tagline!
What Is A Tagline?
Consider it a "sub-title" to the name of your business.  It's a few words, a phrase, or a sentence about what you have to offer your target audience.
Here are some examples:
Michelle Shaeffer's tagline reads, "Simplifying Online Business Chaos: Websites, Blogging, Marketing & More"
Theresa Bradley-Banta's says, "Empowering Entrepreneurs To Think And Act Like Entrepreneurs"
Deb Augur's boldly states, "Making Sense Of Online Business!"
Heather Bestel of Mum's Got A Business is "Empowering Successful Mumpreneurs"
Marcia Hoeck's Breakthrough Business site's tagline is, "Create A Business That Will Run Without You"
And then there's Lisbeth Tanz.  She doesn't need a tagline (lucky duck!) since the name of her site says it all:  "Your Words, Your Voice".  Lis is pretty sharp and I think she's got a leg up on the rest of us.  Darn clever to make her biz name and tagline one in the same.  I'd stick close to Lis and hang around her blog if I were you.
My tagline is a little off the beaten path and that was intentional.  What can I say?  I'm a natural-born iconoclast. I wanted to do something slightly different by using individual words instead of a phrase.
Hence, my tagline reads, "Moms. Your Big Why. Your Big Idea. Market Smart."
The Agony of Taglines
Ask the next ten online marketers you meet about how much "fun" they had coming up with a tagline.  Chances are good they're going to leave out the fun part and emphasize the "agony".
That little piece of real estate on your website holds a lot of weight — keyword wise and otherwise.  And getting it just right isn't easy.
Small biz owners have agonized for weeks over what to use for a tagline.  It really is a tough challenge.
The Victory of Taglines
Marcus Sheridan of The Sales Lion reigns victorious!  Marcus was trying to come up with a tagline so guess what he did?  He asked his loyal blogging community to craft one for him!  Now there's a bright idea.
Check out Marcus's tagline story here:  Dear Sales Lion Community – I Need Your Help!
Have you been struggling to come up with a tagline?

Do you have a tagline but you're not satisfied with it?

What are your tips for creating a tagline?