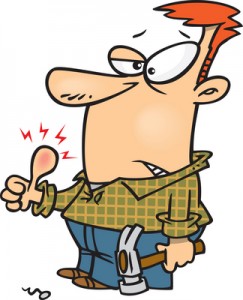 As entrepreneurs, we are taught to create personal brands that, proudly and prominently, place our strengths in the spotlight.
And we are also taught to carefully and cleverly mask our weaknesses.
This flies in the face of traditional business school wisdom.  Having said that, are you suddenly getting that inflexible, conservative "stuffed shirt" feeling?
Heaven forbid our target audience should find out we goof up sometimes and don't know everything about everything.
Mistakes.
Errors.
Typos.
Faux Pas (a social blunder or indiscretion)
Boo-Boos.
Raise your hand if you've never made any of these.
Imagine that.  I don't see one hand going up.
Here's a BIG newsflash!
Trust requires vulnerability. If you value trust in your social media network and you want your target market to trust YOU …
You've got to remove your mask and start talking about the really tough issues you're wrestling with and let your human, far-from-perfect self show through.
My personal favorite social media marketing tip:
Express more vulnerability.