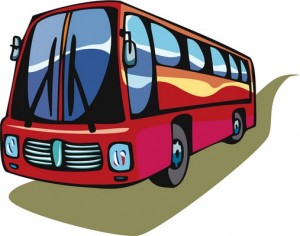 For the past thirty days, I feel like I've been riding one of those large luxurious tour buses with a whole pile of really neat people.
Funny thing, though.  It really didn't matter to me where the bus was headed, I just knew I wanted to be on it.
When we got on board on June 1st, I immediately recognized a few of the passengers from a previous 30-day excursion.  On that particular pleasure trip, the fun never ended for the entire journey!
It was fabulous and we deemed ourselves the "Fab 50".
Wondering what happened after we reached our destination?
Well, we didn't want the excitement, camaraderie, and good times to end, so we got right back on the bus and started touring again.
However …
This time we picked up an extra 200 passengers!
Given such a huge group of people, I had my suspicions that I wouldn't have enough time to get to know everyone on this trip, and I was right.  I'm sure there were lots of fascinating folks that I didn't have a chance to meet.
But with any luck …
They'll be back on the tour bus when we board again in the fall! 🙂
I want to extend a very warm and extra special thank-you to all the fantastic bloggers who knocked on my door during this 30-day challenge and posted so many well thought-out and meaningful comments.  I hope we can work together to keep the momentum going!