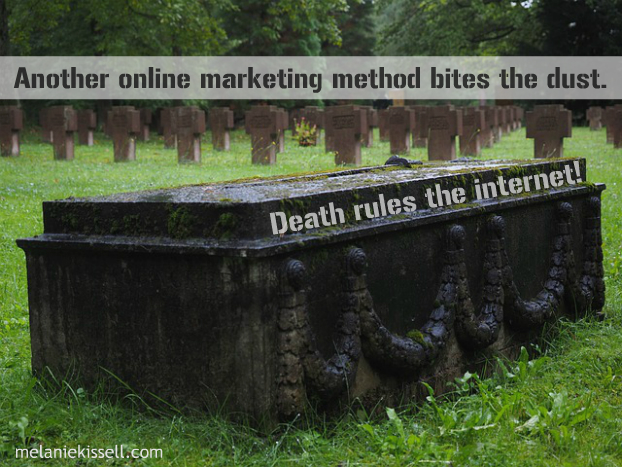 Good thing I own a nice black dress, packets of purse-size Kleenex, and dark glasses. Every time I sneeze, there's another funeral to attend.
Nothing to do with humans, mind you.
Death rules the internet!
The latest from the obituaries:
"Email marketing is dead!"
"Guest blogging is dead!"
"Video marketing is dead!"
"SEO is dead!"
"Google Plus is the walking dead!"
"Newsletters are dead!"
And then there's this: "Revive Your Dead Blog"
Can a blog really die? Of course it can't. You can put your blog out of its misery, if you want, but it won't just die. Your blog may be suicidal, however, but that's a whole other Oprah.
I really wish people would stop making these death claims, although they're sometimes good for a belly laugh — especially if you're at all savvy when it comes to online marketing methods (and you possess a good sense of humor).
What you'll usually discover if you click over and catch these posts is the complete opposite of what the title states.
And that pisses me off.
Blog post titles are designed to make a promise to readers — a promise the blog owner is supposed to honor.
If you're claiming email marketing is dead, then don't share all the ways you've had success with it (along with an affiliate link for the email marketing service you're using). Pfft!
That's what's known as BAD FORM … and the worst kind of blogging etiquette. If you choose to mislead readers, plan on having fewer readers in the future. Or maybe zero readers.
Word gets around fast in the blogosphere — the good stuff and the bad.
Here's the thing about online marketing strategies:
THERE'S SOMETHING FOR EVERYBODY. Always has been, always will be.
Marketing activities you enjoy most and those that suit your personality, schedule, and budget are the ones you should keep in your marketing toolbox.
If you like being in front of the camera, video or Blab-ing is your friend.
If writing is your thing, blogging is the way to fly.
If you prefer to use your voice, podcasting or public speaking is how to roll.
Etc. and so on.
If the marketing methods you're using are working for you, ignore the death notifications. That kind of nonsense is nothing more than drummed up hype, designed to grab your attention … and sell you something.
I'm not opposed to selling. I'm opposed to deceiving people.
Email marketing, guest posting, podcast interviews, networking, visual marketing, Google hangouts, forums, e-courses, internet T.V., blog tours, virtual book tours, membership sites, ezines, webinars, social media marketing, newsletters …
All alive and well.
What have you seen lately in the online marketing obituary column? Are you ever alarmed at the "X is Dead!" claims?