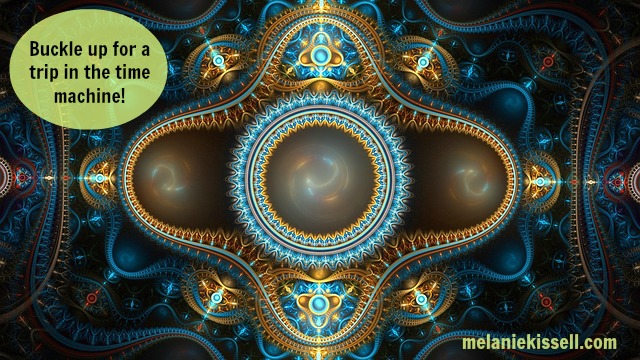 You know those folks you cross paths with online whom you instantly "feel" a connection? Like in a heartbeat?!
The people you can't wait to network with, can't wait to read their next blog post, can't wait to find out more about, can't wait to receive their newsletter, and can't wait to meet in person?
Yeah, those people.
The truly priceless connections, kindred spirits, and solid bonds you form online; the email lists you actually want to be on!
Bet you've stumbled on more than a dozen of these fabulous keepers, serendipitously, along the internet highway.
You haven't spoken one word to them (yet) but your intuition assures you they're going to become long time cherished connections – forever friends and colleagues. You can feel it in your bones, from your head to your toes.
Stick with me and I'll tell you what all this has to do with marketing.
Boarding the Time Machine to Travel Back a Decade
I'm a people person … period.
I love to exchange ideas, engage in lively conversations, lend inspiration and encouragement, share remarkable stories, problem solve, walk my talk, and nurture meaningful relationships.
So when I came online and started blogging (back in the dinosaur days), I had NO idea sharing other bloggers' posts, virtual events, social media updates, book releases, dynamite freebies, product launches, etc., was a form of "marketing".
Who knew?!
Yep. I was marketing my little heart out by showcasing the lovely gems I uncovered while mining the mighty blogosphere. I didn't grasp it at the time, but I was hard and heavy into honing my online visibility skills.
One goal was clear: Bringing the little known and unknown bloggers (those magnificent hidden diamonds in the rough) to the forefront.
Singing praises is my 'thing'.
Need a biz cheer leader? Looking for a trusty blog ambassador? Want to get the word out about your upcoming event? Count on me. I'm a whiz at tooting horns.
When I see good work, good writing, good branding, and good deeds, I can't help but shift into sharing mode. It makes me giddy to put deserving, hard-working solopreneurs in the spotlight.
And you know what usually happens? They reciprocate. (Read that again and you'll sense the magnitude and the ripple effect of sharing.)
I recommended and promoted people, products, events, and services for a long time before I realized I was, in fact, helping small business owners with their marketing efforts.
Let's just call it "Serendipitous Marketing".
I didn't seek out anyone in particular during those early years or any specific type of business or blog. Where I landed was a pure and simple case of sheer happenstance and serendipity at play.
The Almighty Universe can take full credit for being my guide.
Today I'm in the company of a beautiful network of some of the coolest and most creative solopreneurs and biz bloggers on the net.
Ooh! I'm blessed.
Nothing Has Changed: Still Promoting the Underdogs
The trip in the time machine was a fun nostalgic adventure but let's fast forward to the present time.
I'm still doing it – marketing serendipitously.
Oh, I have my "regulars" whose online visibility I won't hesitate to boost. I'll never leave them in the dust. They're on my hit parade for keeps. Whatever they're writing or marketing goes right to the top of my priority list for sharing.
However (and thank goodness), my sacred guide is still working to direct me to new connections all the time.
Throughout my uncanny (I-didn't-know-I-was-marketing) journey, I gleaned a much tighter grip on what marketing is all about along with the added perk of understanding the kinds of people my soul is attracted to.
I like quirky people.
The black sheep. The wallflowers. The outcasts. The loners. The rejects. The eccentric. The broken. The lost and forgotten. The odd ducks.
And why not?!
I've got a few quirks of my own. <grin>
But I'm not too quirky or too proud to admit I was flexing and strengthening my marketing muscles long before I could even define marketing.
It's Your Turn
Do you have a [marketing-before-you-knew-the-meaning-of-the-word] story to share? Plunk that tale in the comment box! Make my day. I would love to hear it.
Next step: Don't let the party end. Head over to this month's Mission: Storytelling word carnival to read more on "How I marketed before I even knew what marketing was". (A.K.A. "Marketing without marketing")
Image credit: Pixabay