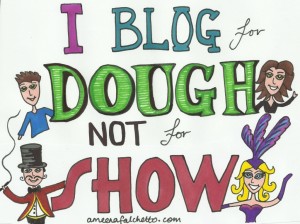 I'd much prefer to be posting a great story, shining the light on a fellow entrepreneur, or sharing tips, tools, and resources with you today.
However …
It's time for me to clear up a BIG misunderstanding regarding my blog.
But first I need to ask you a few questions.
1.)    Are you aware I'm a business blogger?
2.)   Have you figured out I'm an affiliate marketer?
3.)   Are your expectations to never see a link to a paid promotion in my posts?
4.)   Is it totally okay with you when I share FREE tips and tools … but NOT okay when I include a link to a paid offer?
I'm rarely at a loss for words, but I'm struggling to find a way to express my thoughts tactfully.
So let me just lay it on the line …
I'm blogging for dough – not for show. 
And so are thousands of other business bloggers like Ameena Falchetto. (Take a minute to click Ameena's name and read her post.  She's much better than me at addressing this topic.)
In case you're curious, the primary goals for my blog are to:
Educate

Enrich

Enlighten

Entertain
The reason I'm touching on this (sensitive) subject is because of an incident regarding my Aweber stats (Aweber is my contact management system).
I published a post recently to announce one of Denise Wakeman's current programs about how to monetize your social media efforts.
Seems to me there's a BOAT LOAD of people who are not yet making money or securing potential clients/customers via social media – even though they're spending hours and hours every week on various social media channels.
So what was my intention for sharing that information?
To steer people in the BEST direction possible for the HELP they need to start making money by using social media to build their business.  Denise is a recognized, sought after online visibility expert with an impeccable track record.
And what happened over at Aweber when my blog broadcast went out to my list?
Hold on to your hats … and your seats, folks!
A huge complaint rate was noted in my stats.  67% of my subscribers reported that particular post as spam.  And exactly 12 people immediately unsubscribed.   No problem.  I believe in the freedom of choice.
So here's the deal …
Please leave a comment and let me know your opinion on this topic.  Your opinion matters to me.

Then … if you're offended by or opposed to reading posts with occasional links to information, courses, tools, programs, etc. that can help you make money in your business … PLEASE unsubscribe from my list.
There are 100's of posts on this blog that contain zero links to anything – free or paid.  If it's upsetting to you when I (Heaven forbid!) go for the sale, then I'm sorry.
No hard feelings.
Better that we say goodbye now versus having you deem me a spammer the next time I post a promotional offer.
Funny thing about business blogging success …
"Business" is involved.
Illustration credit:  Ameena Falchetto