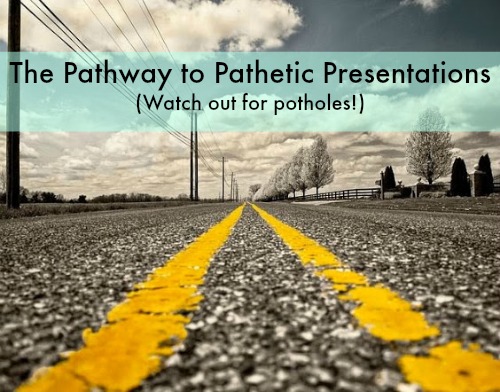 I can't wait to attend another boring webinar (said no one ever).
Buckle up.
We're about to hit some big bumps and even bigger potholes on the path to pathetic presentations.
If I had a nickel for every crappy webinar I've signed up for, I'd have enough dough to buy that cute little vintage Vespa I've always wanted.
Let's Talk The Intro (a.k.a. The Boasting Fest)
You know, that part where some presenters spend ten to fifteen minutes (and sometimes even longer) shining the spotlight on you-know-who.
Nothing but nothing turns me off more than a personal intro that goes on for miles. And that applies to offline presentations, as well.
If you intend to go on and on … and on … at least weave in a good story!
Preferably something humorous or heartwarming that might help to keep me awake. Because I really have no interest in hearing your laundry list of accolades or the millions of dollars you've made selling potholders and perfume (from the trunk of your car).
I've had the privilege of being interviewed on webcasts and I've hosted some presentations of my own.
Want to know how long my personal introduction is?
Under two minutes.
My goal is to get to the meat of the material as quickly as possible – the stuff people sign up and show up for.
Let's Take A Look At The Slides (Eeek!)
Graphs and charts and text, oh my!
Personally, I'll take the lions, tigers, and bears. They're a lot more engaging.
Unless you've just crawled out from under a cabbage leaf, I'm pretty sure you're up to speed on what's happening these days under the big tent of content creation.
In a word … images.
In four words … less text, more images.
Webinar slides plastered with text or boring graphs should be buried under the Smithsonian.
And let's not forget those lovely bullet points. Bullet points are a great way to arrange thoughts in a concise, organized flow but please …
Oh, please! Don't read them, verbatim. It insults my intelligence. After all, I know how to read.
Instead, elaborate on your bullets in a conversational manner. People will love you for doing so … and maybe even send kudos and cupcakes!
Let's Address The Sales Pitch
How many times do presenters need to mention a paid offer during a webinar?
Once is enough.
And please don't save the pitch for the end of your 60-minute virtual event when attendees are in "information saturation mode".
They've had enough and they've heard enough.
Most will click away due to sheer fatigue or simply not absorb half of what you're peddling. Sitting for long periods of time is tiring.
Here's what I recommend:
Make an announcement at the beginning of your webinar that you'll be taking a "brief commercial break" midway through your glorious presentation to share an offer.
That's it. It's that simple.
Everyone will know what to expect and if people don't care to hear your offer, they can run to the fridge for a nice snack or pay a visit to the loo (I've always loved the British term for toilet).
Speaking Of The Toilet
Don't let your webinars go down the crapper.
1.)   Craft a short and sweet personal introduction
2.)   Learn to tell better stories
3.)   Create images that capture and convey your message
4.)   Use bare bones text on your slides
5.)   Pitch your offer (only once) midway through your presentation
You have worthwhile messages, fun anecdotes, and wonderful offers to share with your attendees.
Use virtual events to your best advantage by creating remarkable presentations – and don't forget virtual event etiquette!
Make your next webinar one people want to talk about.
[Stepping down from my soap box]
Image credit: Pixabay