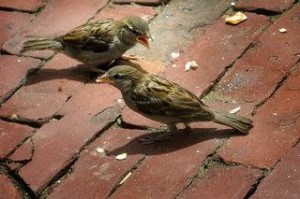 "Owning your worth" and "Earning your worth" are close cousins.
But if you don't first "own" your worth as a small business owner and entrepreneur, gear up to settle for the [teensy weensy] crumbs that will be thrown your way.
A diet of crumbs isn't very filling … or fulfilling.
They're not appetizing and they won't pay the bills, either.
Selling yourself short, as the saying goes, leaves a bad taste in your mouth. 
Discounting your true worth is detrimental to your well being and the well being of your business.
Getting at the heart of understanding and embracing the value you provide to your target market and, hence, the fees you charge isn't always easy.  However, it's crucial to your success.
Trust me.  I know.
True confessions …
I'm the guiltiest party of all.
I tend to give away the farm – free business building advice, free tips, free resources, free online marketing consultations, free webinars, free interviews. free social media strategies, free website critiques, free guest posts, free marketing plans, free reports … you name it.
Hell, I may as well throw in a free lunch!
(Ameena Gorton would pop out of her skin if she read this.  Let's hope she doesn't. Could be messy.)
Not owning my worth is getting pretty expensive.
Can you relate?  Ringing any bells for you??
The thing is …
You might assume people love you when you hand them everything free of charge on a silver platter.  Fact is, they may be smiling and sending flowery thank-you notes your way BUT …
They actually don't respect you. 
And the dial on your self-respect meter drops a little lower every time you don't charge what you're worth … and especially when you charge nothing at all.
Here's what I can tell you …
The days of giving away the farm are coming to a screeching halt for me.  I've been doing myself and the world a big disservice by not owning my worth. 
It's perfectly okay to toot your own horn, learn to become an expert at bragging – the right way, and charge what your years of experience, skills, strengths, and talents are worth.
Mission:  Pimp your pricing! 
The fees you attach to your products, programs, or services should be impressive — just like you.
You can either start owning your worth or settle for crumbs.   Personally, I've had my fill of crumbs.

This post is part of the monthly Word Carnival series of posts. This month our carnies take on the challenge of knowing your value and conveying it to clients so that you can charge what you're worth – and get it! Read the rest of the Word Carnival posts here for more great advice from some of the smartest business owners and entrepreneurs you'll meet.