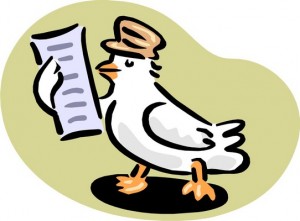 Today I'm going to write what I call a "pigeonhole" post.
After you read the post, use the comment box below to tell me your definition of a pigeonhole post.
On with the post …
When I share a business success formula with my target audience, a quote from Adam Urbanski always sticks in the forefront of my mind.  Adam says, "Your offerings should be 'pain killers' versus vitamins."
My audience is short on time.
They want the most valuable business-building information that's as concise as possible – consumed and digested quickly and painlessly.
No slow-acting, time-released vitamins for these folks!

Here's the formula I give them:
1) Get to know yourself – Make a list of your attributes (gifts, talents, strengths, life and work experiences)
2) Develop and research your ideas – Find out what others have done in your field, what kinds of problems people are looking to solve, and what they are willing to pay for the solutions.
3) Clearly define your message – Who will you serve?  How will you serve them?
4) Marketing your product or service – Stick with three to five marketing platforms till you have mastered them.  Then start adding more.
The best strategy for business success is to be a good listener.  Listen to your target market and be first in line to answer their questions and provide solutions to their problems.
(I'll be curious to read what you think a pigeonhole post is!)