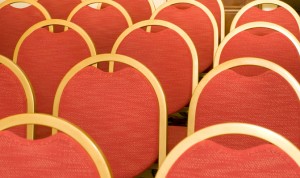 Nothing spells disappointment like spending weeks or months creating, planning, organizing, and marketing a virtual event …
And then having no one show up or just a sparse handful of attendees.
Ouch!
3 Biggest Virtual Event Promo Challenges
1.)  You may not have a large network of contacts.
2.)  You may not have the resources to reach the people you want to connect with.
3.)  You may be an expert in your niche, but you may not be great at marketing.
Even if you're not currently using virtual events to grow your business, read on anyway.  
You may be surprised to receive an unexpected invitation to co-host a teleseminar or webinar or be interviewed on Blog Talk Radio.  
So take the boy scout/girl scout approach and be prepared!
Enjoy Over The Top Attendance At Your Next Virtual Event
My colleague and friend, Chris Makell, and I pulled our resources and skills together at the end of 2011 and created a special presentation to help you succesfully promote your virtual events.
If you want to learn how to get an audience in your virtual seats, register at no cost to watch the replay of "Virtually Fantastic Event Promotions!"
You'll be provided with a handout of event promotional tools.
Then be on the lookout for an opportunity to join me and Chris for a Facebook fan page Q & A session.  We want to get you inspired and motivated to rock your next virtual event!
You're up to bat …
How do you get the word out about your telesminars or webinars?

Are you getting awesome attendance at your virtual events?

What's your #1 virtual event promotional strategy?