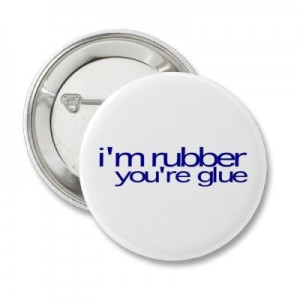 Do you remember that old saying from your younger years?
When I was in elementary school, we used to say, "I'm rubber.  You're glue.  Whatever bounces off me sticks to you."
Your version may be a little different, but the meaning still holds true.
As I march along through this 30-day blogging challenge I entered, I'm noticing something interesting taking place.  Everyone is learning from everyone else.  What a concept, huh?
Every member of this challenge has a unique writing style and a unique message to convey.  No two bloggers or blogs are alike.  So many amazing individuals and possibilities for enrichment!
So how does this rubber/glue theory come into play?
As members of this event get better acquainted, we are …
Bouncing ideas off one another

Becoming better storytellers

Establishing joint ventures

Gathering new business building tips and resources

Offering encouragement and support

Sharing talents and expertise

Honing copywriting skills

Creating friendships

Planning future get-togethers


And having tons of fun!
The benefits and rewards of joining this blogging challenge will "stick" with me forever.
The 30-day blogging challenge is sponsored by Connie Ragen Green. If you've never had the joy of participating in the challenge, here's a GREAT place to start and learn more about Connie:  "5 Pronged Approach to Online Writing Success".
{mysig}