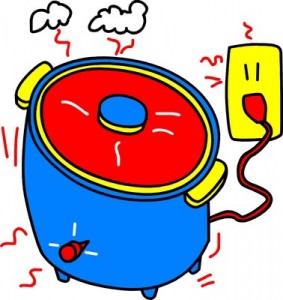 I got an email from Michelle Shaeffer the other day with her link to Help For Work At Home Moms.
I love being on Michelle's list and if you haven't experienced the joy yet, subscribe as fast as you can!  And I hope you'll trust me when I tell you I don't make that kind of remark about all the online marketers I meet.
You can stop reading right now and head on over there if you want … I'll be here when you get back.  Blogland isn't going anywhere.
Anyway, I clicked Michelle's link and discovered the Fly Lady.  What a treat!
I also discovered a free e-course she's offering called "10 Days of Crock Pot Tips and Recipes". Yum.
This is the time of year when I pull my crock pot out from the back of the shelf and put that baby into action!
Fall is my favorite season (I like to call it "sweater weather") and it's the time of year when I like to make nice, warm, hearty meals.  Turkey chili, beef stew, and chicken soup are three of my favorites.
Back to the Fly Lady …
She's got that magnetic southern charm and warmth everyone loves, a mile-long list of organizational tips, down-to-earth videos that are funny, too, and an easy, sensible approach to helping you tackle everything from paper clutter all over your house to how to have a shiny kitchen sink.
It's great to have friends like Michelle Shaeffer who care enough to send a resource like the Fly Lady.  What are your friends and social media contacts sending you these days?