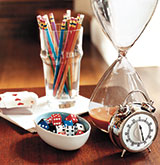 The title of this post is a quote from my friend, Lisbeth Tanz, of Your Words Your Voice.  She's a one-of-a-kind amazing lady.  Check her out and be sure to follow Lis on Twitter.
Have you ever heard entrepreneurs saying things like the following?
"I don't know fancy stuff like FTP."
"I could never create videos.  That's too hard."
"I'm not good at writing."
"I don't understand social media. It's complicated."
"I'm a small fish in a big pond.  No one will ever notice me."
"I can't do anything technical."
"I know I need to craft an irresistible freebie.  But I don't have anything special to offer."
"I can't compete with the gurus.  They know everything."
"I'm just a mom.  I don't have any profitable skills."
Yikes!!
Allow me to jump right up on my soapbox and set the record straight!
Every one of us knows how to do SOMETHING.
Just start THERE.
Rome wasn't built in a day and neither was a website, a blog, or a business!
Being an entrepreneur means being willing to learn as you go and learn as you grow.
What advice would you give a newbie entrepreneur who thinks he or she is lacking in skills or talents?