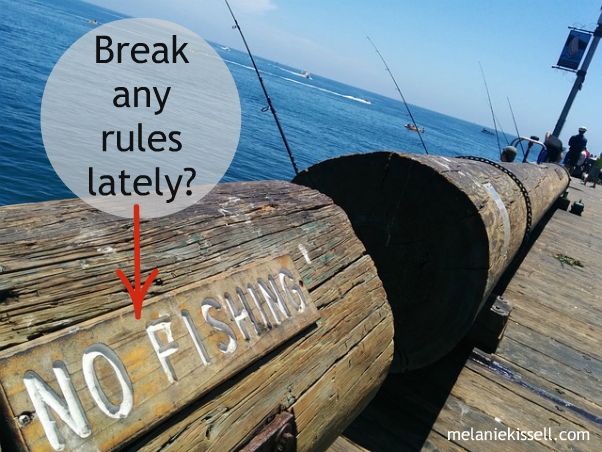 Some rules beg to be broken.
People like me go out on a limb and break them — not to be cantankerous or confrontational but to simply navigate life differently.
I'm a gal who likes to write my own ticket, make my own rules, freelance my talents, and do a bit of messing with tradition.
Breaking away from the norm is my kind of fun.
I'm a small-town girl at heart, a recovering perfectionist, and a poster child for the introverted. I always cheer the loudest and proudest for the underdog and I love going against the grain.
Yeah, that's about as radical as I get.
By the way, totally ignore that memo about introverts. We're NOT anti-social and we're great at organizing events, closets, presentations, projects, and groups of people.
We just happen to be most creative and do our best work flying solo.
And after we've been surrounded by large crowds of people, we need to decompress in a quiet, soothing, safe environment … alone. (With a stiff drink)
So now that I've hopefully cleared up some misconceptions, let's take a stroll down my rule-breaking lane.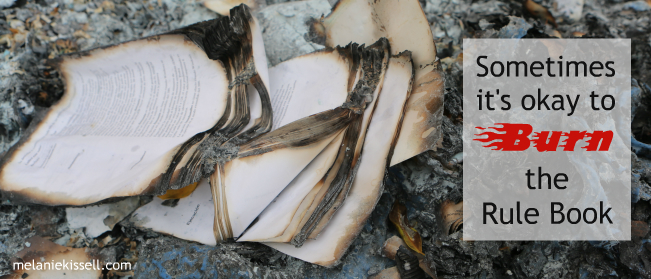 I Opted for a Ringless Engagement.
No flowers, no photos, no engagement dinner party, no formal announcements — no hoopla whatsoever and no ring.
What? Huh?! Yep, it's true.
This summer my sweetie asked me to marry him. I said "Yes" … but "No, thank you" to the whole ring thing.
I'm not a jewelry person, for starters, and I think getting engaged is more about the heart-centered commitment and togetherness factor than a piece of jewelry.
When people ask to see my engagement ring (and they always do!), I tell them it's really quite extraordinary — it's invisible.
They usually giggle kinda nervously and respond with, "Oh, that's different." And they're right. It's different in that a ringless engagement is non-traditional and totally unexpected.
The dough my guy would have spent on an engagement ring could be much better utilized for everyday living and household expenses. You guessed it. I'm a practical-minded individual.
I Don't Write Long Blog Posts.
GASP!
This is another area I've chosen to break a rule and travel off the beaten [blogging] path.
I know, I know. Posts that are 2000+ words get more social shares. If I read any more stats, facts, advice, and analytics about it, I'm going to vomit.
But guess what?
I don't write for Mr. Google or for shares, I write to add value to my readers' lives and to their businesses.
I've worked hard to develop my personal writing style over the past decade of blogging.
Short, sharp posts are my signature style.
I like to call them "Pigeon Hole" posts. I zero in and get to the punchline, quickly, and people appreciate the obvious absence of frivolous fluff and filler.
My beautiful readers are busy people. They don't have time for 2000 words! I respect them by keeping my posts short, averaging 450 – 750 words which, as a matter of interest, they generously share.
I Charge an Hourly Rate for my Copy Editing Services.
OMG!! A unicorn just died.
Nobody in my industry charges by the hour, right?!
All the well-meaning, experienced biz coaches and mentors out there are probably rolling their eyes or heading for my contact form to offer their help and set me straight.
Don't bother contacting me, coaches and mentors. Your colleagues have already knocked on my door with their pearls of pricing wisdom.
Here's the thing …
I have happy clients that happily pay my standard fee, which makes me do the happy dance.
And so far, the sky hasn't fallen because I'm charging an hourly rate.
I'm more than aware I'm breaking a cardinal rule of most freelance copy editors — those who would NEVER trade hours for dollars, not even if hell freezes over!
But it works for me.
And that, my friends, is all that matters.
Please don't think of me as off-the-wall cuckoo or pig-headed. Just think of me as your garden variety rule breaker.
Break any rules lately? Spill the beans and give me the scoop. I'm all ears. (Introverts are really good listeners.)