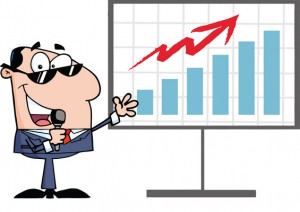 Google Analytics is one of the best known analytics tools. Although there's now plenty of competition, there's no reason why you shouldn't get everything you want from this fantastic Google tool. Here are some of the things you can do to improve your use of Google Analytics.
Leave Yourself Out
If you've ever spent some time installing a new WordPress theme or tweaking your site design, you'll know that you spend a lot of time on the site. You may also spend time adding content, checking that it looks good, tweaking and checking again – and that activity shows up in your site stats. Since you don't really need to know how often you visit your own site, then it's best to leave those visits out. Google Analytics makes this easy by letting you exclude your IP address from tracking via a custom filter.
Check Social Media Activity
Ever wondered how you could track all those likes, tweets and shares to see what kind of social media pull your site has? Once again, Google Analytics has the answer with the track pageview function. Add the right piece of code to your social media button (suitably customized so you can tell where the source of the click is) and you will be able to find out how people are sharing your content via social media in your Analytics dashboard. Check this post on on Hongkiat for more detail.
Compare and Contrast
When you log into Google Analytics, you don't have to stick with the default view. This shows you stats for the past month up to the previous day. There are two things you can do to make this data more relevant. The first is to manually select the last available date to give you stats up to the previous hour – which means you can figure out what's happening with your site in almost real time. The second is to click the 'compare to past' check box to see how interaction with your site has changed month on month. It's useful to be able to see what content is increasing in importance and what content is less popular so you can make changes.
Report Back
One often underused feature in Google Analytics is custom reporting. This is a great way to drill down into the really crucial data on your site. Want to find out how many people are really engaged with your site? Check out and customize the Non-Flirts report available on Occam's Razor. Want to know how many people search specifically for your brand? Or how many people came to your site via the links you tweeted, liked or shared? Custom reporting can help you work it out. The feature is easy to use with drag and drop parameters and the ability to test your report to see if it's giving you anything useful. And to make your Google Analytics reports even more useful, you can email them to yourself (or anyone else who needs access to them).
This was a post by Lior Levin who works for an applicant tracking software company and also advises to a neon signs online store