Prefer to listen to this post?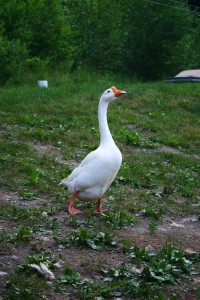 Are you familiar with the saying, "Shoe a Goose"?
If not, hold on a minute and I'll get to that.
I think if I tried to shoe a goose, it would take me all day.  It might even take me two or three days.
First of all, I'd have to catch the goose, and I'm sure that's not easy.
And then I'd have to find a way to pin it down and keep it still.  Once again, not so easy to do and might take me hours.
Next I'd have to try to figure out how to get a shoe to fit over a webbed foot.  At best, that's got to be tricky.
By that time, I'd be so tired, I'd probably let go of the goose and then I'd have to start all over again.
So what does "Shoe a Goose" mean, anyway?
It means "Engaging in a fruitless task".  After all, geese don't wear shoes and they don't need shoes!  So trying to put one on a goose is fruitless.
As you work to build your business throughout the week, how often do you shoe a goose?
How often are you checking phone messages, reading your emails, cleaning off your desk, going to the kitchen for another cup of coffee (or another chocolate donut), playing with the dog, shuffling papers, downloading music, shopping online, looking at interesting videos on You Tube … the list could go on … and on.

None of these kinds of activities will help you make money or move your business forward.
So stop trying to put a shoe on a goose – And get busy doing something that will make you some money!