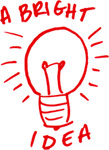 I highly recommend (adamantly advise, strongly suggest, and vehemently urge!) you to enter to win a ticket to the virtual Blogging Success Summit for 2011.
The deadline is January 21st.
This post is my entry and one of the ways to qualify to win.  And I'm itching (and determined) to get my hands on a ticket!
The other way is to simply Re-Tweet a pre-written message provided to you on the Blogging Success Summit contest page.  You can RT twice a day until the deadline.
Easy peasy!
On with the post … "My Biggest Blogging Challenge"
Some of you have been loyal readers for the past year and some even longer.
By now you've had a chance to get comfortable with my writing style, the topics I blog about most often, my belief that a sense of humor is your best asset in life, and my "pigeon hole" posts.
Which of the following would YOU guess as my biggest blogging challenge?
Getting Visibility and Traffic

Being engaging enough

Design and layout issues

Implementing SEO strategies

Establishing Credibility

Crafting compelling headlines

Planning and organizing posts

Monetizing my blog

Educating and entertaining my readers
Even if we've just met recently and you're a fairly new reader, take a guess at my biggest blogging challenge and post your response in the comment box.  Thanks.
Okay … I'm sitting on pins!