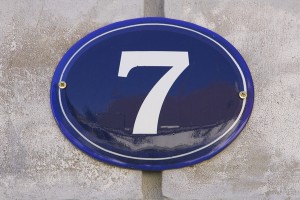 Thanks, Hiten, for nominating me for the "7" challenge!
I've chosen to share "7 Random Facts" and nominate 5 bloggers to step up and take the challenge.
1.)  I'm extremely uncomfortable in large crowds of people.  I avoid them like the plague.  However, I can take the stage and speak to 100's of people and feel totally at ease.  Go figure.
2.)  I've perfected the art of preparing 17-minute meals.   We single mums are some of the speediest goal achievers on the planet!
3.)  I helped renovate a classic 1956 Chevy longbed pick-up truck from the frame up.  Yes, I know how to rebuild a 350 small block engine.  Ladies, stop cringing.  Don't knock it till you've tried it — it's fun.
4.)  I won every typing contest in my high school typing class.  Playing the piano helped me achieve equally good motor skills in both my hands.  My classmates used to bribe me to slow down and lose the speed challenges on purpose.  NO WAY.  Had they offered me large sums of money, however … I would have typed at snail speed.
5.)  I don't have a green thumb.  Every house plant I've tried to grow dies faster than the one before.
6.)  I can sew, knit, crochet, and do needlepoint.  But my crafting days ended when my twins were born.  I'm sure this needs no further explanation.
7.)  Writing is my biggest passion.  However, I have yet to find a way to turn my passion into profit.  I'm all ears and open to suggestions.  Lay them on me!
My five nominations for the "7 Random Facts" challenge are:
Once again, a special thank-you to Hiten Vyas.  
If you haven't visited his blog yet, don't dilly dally?!  Head over there and soak in his pearls of personal development wisdom. 
You'll be forever blessed and refreshed.