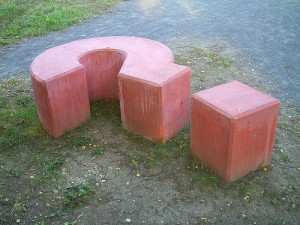 I've been reading a ton of discussions recently about whether it's a good idea to offer your target audience a "freebie" as a means of growing your list …
… the folks you want to build a relationship with away from your blog — those wonderful email subscribers you want to nurture — the prospects you want to market to.
Giving away (even just a portion of) your expertise to potential customers or clients may not be the best way to fly.
It may even come back to bite you in the butt … big time.
Brian Clark from Copyblogger says, "Free is not a business model".
Kinda makes your ears perk up, doesn't it?
Armed with all the information I've devoured lately, I'm seriously considering removing the freebie offer from my site.
Here's why …
The WRONG PEOPLE are opting in, which isn't helping me one darn bit to grow a list of potential "paying" customers.
Oddly enough, rarely does a member of my target audience request my freebie.  Sound strange?  Well, believe it or not, this isn't just happening to me.
So who's opting in for the freebie?  Online marketing colleagues, fellow bloggers, curious looky-loos, and the proverbial tire kickers (Ya gotta love THAT crowd!).
Many of them opt in — grab the freebie — and immediately opt OUT.
It's almost laughable.
Only I'm not laughing.
I've even got a few well-established online marketing "experts" who are simply "spying" on me under an alias email address.  Isn't that a hoot?!  It wasn't easy to figure out who they are, but I did.
Here's the risk in offering a freebie …
Hardcore freebie seekers are out there in droves.  We'll never experience a shortage of people wanting something for nothing.
They will never purchase ANYTHING from you — even if it's priced at bargain-basement cost.
Once you give them something great for free, their expectation is that the free stuff will just keep rolling in for eternity.
Not cool.  You're in business — not the "giveaway" business.
I'm convinced freebies may actually do you and your small business more harm than good.
The blog post that influenced my thinking and definitely had the greatest impact on me was from Ameena Falchetto. 
What's your opinion?
Is your freebie rockin' your business?  

Or are you rockin' it without a freebie?
Photo credit:  alexanderdrachmann