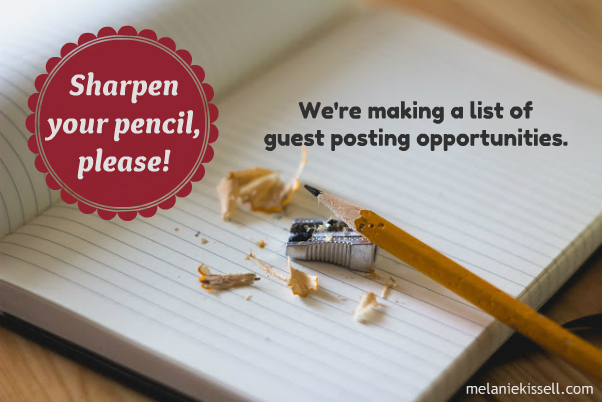 Combine a gallon of guilt and a pound of procrastination and you have the recipe for today's post.
You know the saying, "The road to hell is paved with good intentions"? I'm guilty of laying more than a few miles of pavement on that hell-bound highway.
For the longest time (you know, like forever), I've been meaning to share a list of guest posting opportunities with you. Just wipe off all the moss it's gathered on my hard drive, along with the dust particles and cobwebs, and it'll be good as new!
Before I dive in, I should let you know my list of guest posting resources is for you IF:
You're blogging for business
You're looking to get your name, your brand, your biz, and your blog out there in a bigger way
Taking the seat of honor on someone else's blog is one of your key online marketing activities/strategies
You're an experienced blogger who's been publishing posts for longer than a few short months
If you fit the bill, that's great.
If not, you're probably a newbie blogger who needs to pay some more dues in the blogosphere before branching out. (Bookmark this post for future reference)
Dear Seasoned Bloggers:
Ever feel like maybe it's time to up the ante and spread your wings in this blogging-for-business thing? One way to satisfy that yearning is to cast a wider net by writing guest posts.
A note of caution:
THERE ARE RULES and SPECIFIC GUIDELINES you must follow in guest blogging. Not to mention disappointments (and beer to cry into) if your submissions are declined.
Guest posting is not for the faint of heart.
Honestly, being a podcast guest is easier and a very powerful way to showcase your voice and your personality — whereas writing requires long hours at the keyboard and loads of creative thinking. Tricky business figuring out how to share your personality via the written word, isn't it?
But, hey, writers gonna write, right?!
Beware: Those who accept guest posts command your BEST work and your BEST writing. I think their expectations are exactly where they need to be … on the ceiling. After all, it's their blog and they have a reputation to uphold and a treasured audience to serve.
For the love of everything holy, PLEASE proofread and edit your guest posts before you send them off! Otherwise, expect some doors to be slammed in your face, followed by the sad sound of silence and the icky feeling of rejection.
One more thing and it's a BIGGIE …
Don't abandon your guest posts. Once your thing of beauty is published on someone else's blog, remember to take accountability and reply to comments.
Nothing irks me more than guest authors who vanish in the night.
You're not a "ghost" blogger — you're a "guest" blogger! So mind your manners and be a gracious guest.
Ready to bang out an engaging, educational, entertaining, enlightening guest post?
Find opportunities here to strut your best stuff:
Shoestring Marketing University
Wondering how much guest posting pays? Uh, that would be $0. The compensation comes in other forms, like broadening your reach online, garnering networking opportunities, and creating a list of writing clips for your website. Not to mention a way to improve your writing skills.
If you're looking for paid writing gigs, be sure to subscribe to Brian Scott's Morning Coffee eNewsletter — your daily cup of fresh freelance writing jobs.
Your turn:
Nothing trumps a good story. If you've had some experience in the world of guest blogging, head to the comment box and lay the fun times and the faux pas on us. Tell all!
And if you offer a guest posting opportunity on your blog, please share the details.