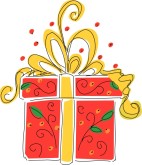 And sometimes they don't come in a package at all!
I'll never forget the day I opened up a life-changing email message from Patsi Krakoff, co-founder of The Blog Squad and owner of Writing On The Web.  I had responded to a note she posted on Facebook about needing some virtual assistance.
Patsi wrote to tell me that she had already found someone for the position and thanked me kindly for showing an interest and offering to come to her rescue.
But here's the exciting and rewarding part …
In her message, she complimented me by saying, "I see you EVERYWHERE on the internet!"
Wow!  Ya can't put a price tag on those seven little words, especially coming from someone who is exceedingly successful online. At that very moment, I realized that all my credibility and online visibility efforts had made a difference.   I wasn't just some invisible entity.  My hard work had paid off!

I truly hope you realize and, more importantly, BELIEVE that all the effort and energy you're putting into your business will be rewarded.
And always remember to cherish and celebrate the small victories because BIG things come in small packages.
{mysig}