Prefer to listen?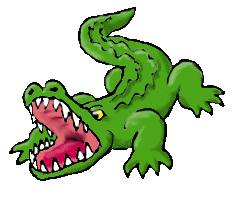 Sometimes I feel like I've got more to do than any other person on earth.
The stressfulness related to an overloaded, over-committed schedule leaves me feeling like I'm up to my butt in alligators … and they're about to devour me!
So, is this my own fault?  Did I bring on the alligators myself?  Some psychologists like to call that "self-induced" stress.
Give me a break.  That's like saying, "You asked for it!" I'm not buying into THAT diagnosis.  Who in their right mind would PURPOSELY create stress in their lives?!
I'll tell you "who".  NO ONE.
Some of us just naturally have more on our plates than others and our days are filled with more activities and responsibilities than sardines in a tin!
This is especially true of a lot of solo professionals. Building a business is hard work and if you're not careful, those alligators can start biting – and biting hard.
Stress is no joke.  I've been a health care professional for over three decades and I've seen, firsthand, the ill-fated effects of stress – and they're not pretty.  And quite honestly, they can be fatal.
So what can you do about it?
One of the amazing members of the 30-day blogging challenge going on right now can help.  Her name is Heather Bestel, creator of "Just Ten Minutes".  I consider Heather a wonderful friend, a colleague, and an EXPERT at helping people to reclaim their lives and find joy every day.
With Just Ten Minutes, you can enjoy every day to the fullest and get a handle on your stress – and avoid feeling like you're up to your butt in alligators!
If you don't take action on this right away, bookmark the link or this blog post.  The day may come when you get into an unhealthy mode of "overwhelm" and Just Ten Minutes can save your butt and your sanity.

{mysig}