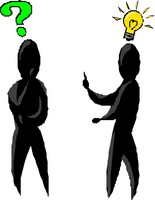 If you haven't been spending much time on your Facebook home page, I'd get over there – Pronto!
Some of the foremost experts in online marketing, visibility, and social media are hanging out on Facebook. The benefits of connecting and interacting with these folks are too numerous to count and they can teach you a lot about how to "engage" your community.
So what are the quintessential business-building professionals up to these days?
In addition to generously giving you the opportunity to strut your stuff, they're looking for ideas and asking questions.
Adam Urbanski had yet another spark of genius this week and started "Marketing Monday" on Facebook.  Every Monday he's giving you the opportunity to post a link (okay, a shameless plug) to one of your offers.
And on Tuesdays, he's calling his Facebook thread, "Cool Tool Tuesday" where people can post their favorite free or low-cost biz tool.
Ya can't beat that deal!
Adam also comes up with some awesome (and thought-provoking) questions like the one he asked today: "What excites you the most about your business?"
If you want to engage your social media community, your group members, your fans, your blog readers, and your target audience, start asking questions.
Interaction is the key. We humans LOVE to answer questions and LOVE to share our knowledge and expertise.
Denise Wakeman posed a great question on Facebook today asking people how they've been using their Facebook business page to engage their fans.  Denise is one savvy and smart cookie.
What happened next?
Cool and creative ideas immediately starting rolling in!
By asking this question, Denise opened the door for people to put their thinking caps on, step into the spotlight, and shine.  She also opened the door for others to grab those ideas and run with them.
Win-Win for everyone.
If you're in need of ideas to grow your business, establish credibility, and increase your visibility, start asking questions and post them on social media venues like Facebook.
Do you have a question you'd like to ask here?  Fire away!
Related articles