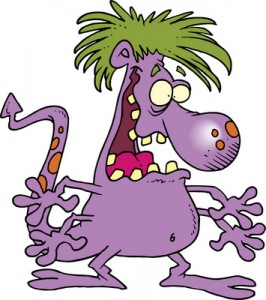 Let's get right to the monstrous meat of the marketing matter (bet ya can't say THAT ten times real fast!).
Monster Size Marketing Mistake #1: Throwing fistfuls of money into an unproven product or service.
Are you building your business on research or a "hunch"?
Got a "feeling" you have a winning idea?
Just because your best friend, your neighbor, or your yoga instructor think you've got a winning idea isn't nearly enough input to run to the bank and deplete your savings account.
You've got to do your detective work first and test your business idea with the real marketplace.
Monster Size Marketing Mistake #2: Thinking you have a product or service that will practically sell itself.
Please trust me … you don't.
Whether you have a physical storefront in the busiest part of town or a beautiful web site that's pleasing to the eyes with easy access to your hot products or services …
Your customers will not find you if you neglect to market to them.
Your grand opening is the same day you put on your "marketer's hat" and you NEVER take it off.
To stay in business, you must profit.  To profit, you must sell.  To sell, you must market!
Monster Size Marketing Mistake #3: Setting out to reinvent the wheel.
I'm sure you've read lots of information that encourages innovation and creativity in your marketing efforts.  It's way too easy to get caught up and enamored with the innovation process and forget that the real focus should be on RESULTS.
There are some very basic principles to the age-old practice of marketing.
Great marketing ideas are used over and over again with just the right personal twist to make them fit a specific niche or industry.
Monster Size Marketing Mistake #4: Believing activity is productivity.
To sell a million of something, you have to sell the first ONE.
Failure is so powerful, we do everything we can to prevent it.  Entrepreneurs can get so busy researching, preparing, and organizing to avoid failure, they never get around to actually marketing their businesses.
Over-preparing and doing nothing is a montrous mistake.
Monster Size Marketing Mistake #5: Getting bored and constantly starting new promotions.
What may be "old" to you is still new to an untapped target audience.
Not sticking to a marketing campaign long enough to get consistent results is detrimental to your business.  You may have the budget to keep switching to something new, but resist the temptation.
"Boredom" is not a valid reason to abandon a current marketing campaign.
What monstrous marketing mistakes can you add to this list?

Have you made any of these mistakes in the past?  What did you learn?