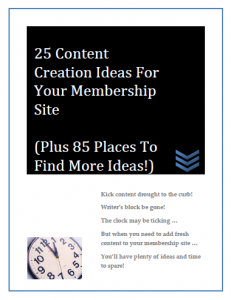 Content creation can wear you out.
Even though you may be a good writer and creative thinker, consistently working to crank out a string of valuable content for your target audience can turn into a "brain drain".
Burning the candle at both ends, grasping at straws, and trying to pull content creation ideas out of thin air aren't effective strategies.
Busy professionals who are also membership site owners or those thinking about starting a membership program …
Need good ideas FAST!
I wholeheartedly believe "content" will make or break your membership program.
Let's say you've set up a three-month program for your members (also known as a "fixed term" program).  
The last thing on earth you want to experience is getting emails from people in month two that read, "This program isn't really serving my needs.  I'm not finding much value here.  Please refund my enrollment fee."
Ouch. 
Not cool.
To help you avoid this problem and the issue of burnout, I've written a guide entitled, "25 Content Creation Ideas for Your Membership Site" and I've included 85 places to find more ideas.
This guide is not currently in the marketplace.  You won't find it anywhere on the internet.  It's sitting on my hard drive.
However …
When you join me for a free virtual event on Monday, October 17th (replays available if you can't be on the webinar), you'll be given the opportunity to receive my content creation guide as a special bonus.
Register here to learn the "Secrets of Money-Making Membership Programs":

Hope to see you there! 🙂