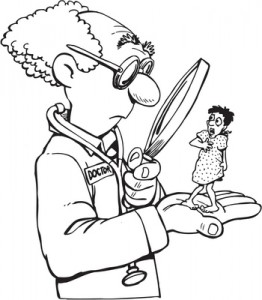 People like to tease me, make fun of me sometimes, and call me names.
Names like …
"Queen of Concise Content"
Or …
"Microscopic Melanie"
And then there's this really silly one …
"Princess of Petite Posts"
I don't mind.  People have been called a lot worse, right?
If you hang around here long enough, you'll figure out that I craft shorter posts than most bloggers.   In my blogging book, word count doesn't count – quality content counts.
When I've got a point to make or tips to share or interesting news, I prefer not to ramble on about it.  Fluff and filler occupy no space on my blog.
Are my posts short because I'm just lazy or in a rush to bang them out or because I really don't have much to say?
Nope.

Shorter posts have become my signature writing style.  That's what my readers expect to find when they land on my blog.  They're people who want to get to the meat of the matter and move on with no time to dilly-dally.
My readers don't want a 500-word dissertation.  We'll leave those to all the prolific article writers out there. 🙂

Your readers might enjoy Pigeonhole Posts, too!
What's your signature writing style?