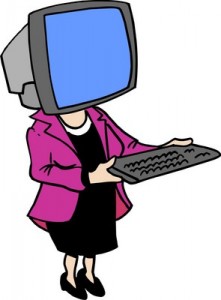 Your "second life" – the one you live on the internet – requires strategies for basic online reputation management and essentials for creating your online persona.
Persona?  What's that?!
In a nutshell, it's your fabulous presence online – your Fab Factor.
A little fuzzy on the concept?
Here's the dictionary version of persona:
The role that one assumes or displays in public or society; one's public image or personality, as distinguished from one's inner self; a person's perceived personality, personal image; public role.
The key word here is "public" and in this case – your online public.  So remember …
The information you post and share online has all the confidentiality of a postcard.
Assume anything you post or—are tagged by—is visible to the world‐at‐large.  Know what's out there about you and monitor your digital dirt!
You can influence your own online persona in lots of ways and on a wide variety of platforms – social media venues, blogs, personal website, and social bookmarking sites to name a few.
Following general netiquette rules is a must.  And remember that developing an online persona is a process, not a transaction.
Want to know more about how to create a fab persona online? Claim your FREE report from my friend Cathy Goodwin, "3 Easy and Essential Steps to Create Your Fabulous Presence Online". It's only 5 pages long and you'll learn things like why being "intriguing" is much more important than being "memorable".
You need to know this information since you want to attract more clients and sell more products online, right?