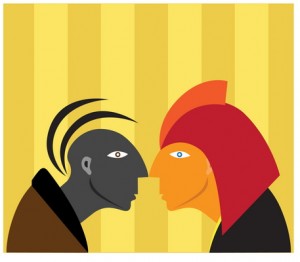 I've never viewed myself as someone with a "competitive" nature.
I'm not a big risk-taker and I dislike confrontation.
And when there's a contest of any kind, I want EVERYONE to win.
Well, things are about to change.
A hallmark moment is on the horizon.  I'm diving in, head first, and entering a guest posting contest on We Blog Better.
Middle age does these kinds of things to you.
It makes you sit up and pay attention to the fact you only get one chance to go around in life — so you better make the most of it!
At first, I wasn't going to enter the contest.  After all, the competition is STIFF.  I've read some of the entries already and they're darned good.
But then I thought about it some more …
What have I got to lose?  I'll toss my post in with the mix and see what happens. Worst case scenario?  All the awesome prizes the sponsors are offering will go to someone else.
And that's okay.
Because I will have crossed over a new bridge to become a contestant.  Taking a risk by competing will be the blue ribbon I'll award myself!
If you'd like to craft a guest post and dive in with me, the deadline is May 31st. Just head over to We Blog Better for all the details and guidelines.
Oh, one very important note …
I'll be asking for your support throughout the contest.  So get ready to start clicking those social media "share" buttons!
So …
What do you think I should blog about?

Have a favorite topic?
P.S. Please add me as a friend on Blokube and Blog Interact.  Thank You.

Darren Monroe – Online Business Ideas
Mike – WordPress Themes: Premium WordPress Themes
Ileane – Basic Blog Tips: Blogging Tips
Dan – Keyword Winner: SEO Plugin and GSEO: SEO Outsourcing
Lisa Irby – 2 Create A Website
Linda Hewett – Positive Spin Blog
Francisco Perez – iBlogZone: Home Business Resources
Brankica Underwood – Live Your Love: How To Blog Like A Star
Mavis Nong – Attraction Marketing
Danny Brown – Social Media Marketing Blog
Roberto Montanez – PsychBits: Psychology
Jane Sheeba – Find All Answers: Blogging Tips
Laura Burke – Skip the Scams: Learn affiliate marketing
Ana Hoffman – Traffic Generation Cafe: Tools for Internet Marketing
Kristi Hines – Kikolani: Blogging Marketing
Heather C. Stephens – Blog Marketing Ideas

Peppy – The Peppy Writes Chronicles

The Health Media Watch Blog: Fresh. Hip. Healthy
Tristan: The Blogging Bookshelf: Blogging tips

Ann Smarty – My Blog Guest
David – Blog Writer for Hire
Sean – Find Your Peak: Make Money, Live Fully, and Create the Life of Your Dreams!

David Shaw – Puxee: Puxee Blog Advertising