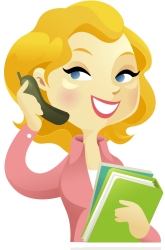 Some solo professionals and small business owners really enjoy writing and others prefer speaking.
You don't have to have a college degree in communications or specialized training to use speaking as a strategy to promote your products or services.
If you enjoy using your voice to build your online business, teleseminars are a fantastic marketing platform. You can invite your e-newsletter subscribers, blog readers, customers, current clients, and social networking friends to attend your teleseminar.
For those that can't attend, be sure to provide a "replay" link so they can listen to the presentation at their own convenience.
If you spend time on my website, you'll quickly figure out that I'm a big fan of "Free". So here are four No-Cost teleseminar resources for you to check out:
Speak up! Speak out! Using your voice is a very effective way to share your expertise, showcase your talents, and let your personality and pizazz shine through.