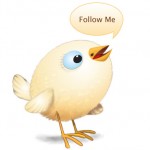 You can call your Twitter followers any endearing name you like.  I call my followers "Peeps".
Twitter is a cool little micro blogging platform that small business owners should not overlook or discount.  It's one of the top venues for establishing authentic relationships, sharing your expertise, and building your brand.  So the rumors are not true.  Twitter is NOT a waste of time.
Without question, Twitter is my all time favorite social media marketing site.  I like the rapid fire conversations and the challenge of keeping posts at 140 characters or less.
If you're looking for an ALL-INCLUSIVE FREE Twitter webinar on how to "Twitter Your Way To The Top", mark your calendar for April 29th.  My friend and colleague, Jessica Swanson, founder of Shoestring Marketing, will be the host.  All of Jessica's webinars are jam packed with tons of information, tips, resources, and action plans!

Some online marketers seem to be at a loss for WHAT to Tweet about.  Here's a list that will help to lift the fog and eliminate the confusion:
Use interesting quotes related to your target market

Talk to your followers with @replies

Link to someone's blog, article, video, podcast, or picture

Ask questions

Answer questions

Re-Tweet valuable and helpful information


Announce an upcoming event (webinar, teleseminar, meet up)

Make a comment

Pay a compliment

Use #hashtags (www.Hashtags.org)

Introduce followers to your products, programs, and services

Post a survey

Take a poll

Create Twitter lists

Share Biz Tips and Tools

20% of your posts should be promotional and 80% should consist of interaction, instruction, and education.
If you follow this rule of thumb, you're going to generate traffic to your site and obtain qualified leads for your business!
Here's the link again to the Free webinar: "Twitter Your Way To The Top"

{mysig}