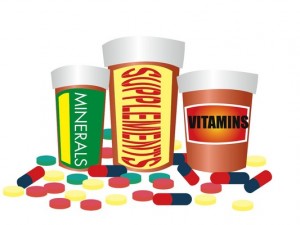 I can't speak for the European diet or the Canadian diet or any other country's dietary habits.
But our diet here in the U.S. isn't the greatest.  Actually, our nutritional habits are really poor.
Many of us need to take supplements – additional vitamins and minerals to enhance the foods we consume and to insure better health.
Have you ever thought about "supplementing" your business?
If your business isn't in the best of health, you'll want to do something to nurture it, guide it back to good health, and prevent it from ending up in the operating room – or worse yet, the cemetery.
The following are some effective, fast-acting supplements I'd like to recommend.
Unlike the multi-vitamins you purchase for your personal health, these 7 business supplements are available at No Charge.
1. Does Your Online Visibility Need A Boost? 
Supplement with:  7 tips you can implement right away to start building a powerful presence on the Web
2. Is Clutter Clogging Up The Arteries Of Your Business? 
Supplement with:  Help lose clutter, gain time, and reduce stress
3. Are The Ill Effects Of Sleep Deprivation The Result Of Having Too Much Writing To Tackle? 
Supplement with:   21-page step-by-step guide — How you can make your business more profitable by leaving the writing to someone else (Download link at bottom of page)
4. Is Trying To Figure Out How To Bring Your Offline Business On The Internet Giving You A Headache?
Supplement with:  12 Business Blogging Strategies To Take Your Business Online
5. Mompreneurs – Are The Words, "Simplify", "Balance", And "Relax" Music To Your Ears?
Supplement with:  More Me Time
6. Are You Running Out Of Energy Trying To Come Up With A Money-Making Strategy For Your Website?
Supplement with:  5-Point Website Profitability Checklist
7. Do You Get Dizzy With The Notion Of Using Social Media To Build Your Business?
Supplement with:  Why Social Media
Use the free supplements above to add a spark of energy, inspiration, and vitality to your business!