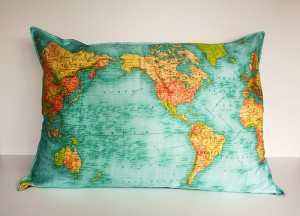 I pulled out a map of the world today and had a huge and disappointing revelation.
My map is not accurate.
My map is flawed and missing a very important landmark.
I was able to point to my birth place in Pennsylvania and I located Scotland, UK where my lovely friend, Heather Bestel of "Mum's Got A Business", resides. 
And let me tell you … Heather lives in the middle of nowhere … and it's absolutely gorgeous.
Pointing to the major bodies of water all over the world was easy, too. 
Of course, I can drive a few miles and dip my toes in the Pacific Ocean.  No need to look that one up.
However, there's one major body of water that's missing from my map …
The Sea Of Infocrap.
I know it exists because I've taken a swim in it many times.  
The waters are horribly frigid — intolerably cold, in fact.  It's an icy swim that leaves you shivering with chills.  
I've had a few instances where I nearly drowned.
Have you taken a swim in it or sailed the waters of The Sea Of Infocrap?
Do any offshore diving?
Visit any ports?
Explore any caves?
Feel free to share the crappiest crap you've uncovered on your journey.
Be specific.  
Please help me pinpoint The Sea Of Infocrap on the map.
Photo credit:  cath @ chunkycooky on Flickr