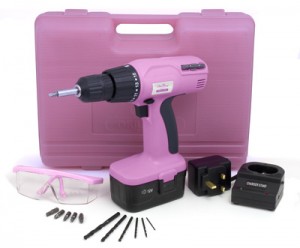 I love working with power tools!
Just get a sander, drill, saw, planer, nail gun, or any power tool in my hands and I'm in heaven!
I really enjoy doing restoration projects, furniture refinishing, remodeling, or any project where I can pull out a power tool and have some fun.
Most of the women reading this will be thinking, "Ooh … yuck."  But hang on and keep reading.
A long time ago out in the San Fernando Valley here in Southern California, there was a trade school for Women Only called "The Pink Ladies".
They offered courses in the construction trade – plumbing, roofing, tiling, masonry, framing, carpentry, wiring, etc.  Upon successfully completing the course, graduates were awarded a toolkit.  The toolbox and all the handles of the tools were PINK.
I regret not having signed up for the course.  I know I would have passed with flying colors!
Talking about thinking "Pink" and "Powerful" …
As a Mompreneur, you need the right tools to grow your business.  Here's a group of ladies with some business-building power tools!  They're the "Pink Ladies of Online Marketing"!
Marcia Hoeck: "My Breakthrough Business"
Martha Giffen: "Helping You Through the MAZE of Online Marketing"
Bobbye Middendor: "Write Synergies Copywriting"
Heather Bestel: "More ME Time"
Deb Augur: "My Web Gal"
Jeanne Kolenda: "Tips for Life and Business"
And don't worry …
These ladies won't make you wear a pair of safety goggles to put their power tools to work! 😉

{mysig}