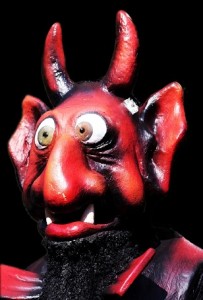 Your dear lifelong friend thinks so highly of you and your business offerings, she's referred you to a friend — someone she adores as much as you.
Isn't that sweet?
Peachy, even?!
Maybe … maybe not.
Family and friends already know, like, and trust you (let's face it, they love you) so it's natural for them to want to send business your way.
There's no denying word of mouth advertising can't be beat. 
It's the proverbial cream that rises to the top.
When you treat your clients and/or customers right, you'll be setting yourself up for loads of repeat business and a business model built on gloriously cherished (and highly valuable) referrals.

But what if …
Your best buddy in the whole world refers you to the devil in disguise?  The client from hell?  The irritating thorn-in-the-side customer who's bringing sleep deprivation and indigestion into your life?
You know, that illustrious friend of a friend.
Let's just call these folks "unfriendly referrals".  (Or maybe better stated as "friendly fire") 
Ouch

At this point, shooting yourself in the foot would be considerably less painful than dealing with this person.
Take on a few more referrals like this and you'll be "Vacationing in Burnout-ville".
So how do you handle this ugly and uncomfortable situation?
You certainly don't want to burn any bridges with your lifelong friend, right?  Are you willing to risk the possibility of hurting a beloved friendship by unleashing this nightmare of a referral?
I hope you're not waiting for an answer because I don't have one. 
It's up to you to figure out what to do if you find yourself in this predicament. After all, it's your business.
Worth mentioning …
If your physical or emotional well being is suffering, it may not matter how much an "unfriendly referral" is adding to your bottom line. 
When frustration outweighs dollars and cents, the cost of hanging on to your friend's friend may be substantial.
"Out With The Trash And In With The Treasures" is my poetic viewpoint on this topic.
Referrals can become the lifeblood of your business.  However, your personal relationships can be jeopardized by hastily dismissing challenging (and that's putting it politely) referrals from family or friends.
What would YOU do?  Do you think there's a way to service devilish clients or customers and still maintain your sanity?
***********************************************************************

This post is part of the Word Carnival — a monthly group blogging event specifically for small business owners. (It's the most fun you'll have all month!) Check out the rest of the fabulous carney work here: http://wordcarnivals.thewordchef.com/2013/08/the-ins-and-outs-ups-and-downs-of-biz-referrals/