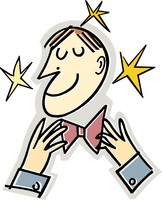 Want to be an expert, effective, and dynamic marketer?
Start by tossing out everything you know about selling.
When people sense you're pushing something on them, they run away and they run fast.  They'll avoid you like the plague!
Marketing is a softer, gentler, more palatable strategy for getting you, your business, and your products and services in front of the eyes and in the minds of your potential clients and customers.
Communication and relationship-building, in person or online, is what marketing is all about.
You need to "talk" to your prospects.
Begin from a place of generosity and a belief that what you have to offer will change peoples' lives for the better.
Keep the lines of communication with your target audience open with the distribution of valuable FREE content through:
Articles

Blog Posts

Videos

Podcasts

Ezines/Newsletters

Teleseminars

Webinars

Emails

Surveys

Contests

Social Media

Postcards/Greeting Cards
Strive to brand yourself as an authority by implementing marketing strategies that engage, enrich, educate, and entertain your target audience.
The best parts of marketing will keep your prospects' (selling) defenses down!