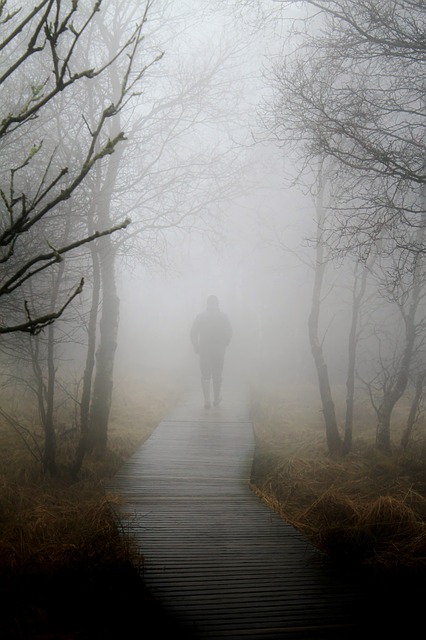 It was another foggy day.
A dingy, dense, and dreary encounter.
I couldn't see a thing.
The absence of clarity can be pretty frightening.
Just the scary thought of placing one foot in front of the other brought on a paralyzing phobia – the fear of being stranded; stuck; suspended in time.
I don't fare well in dark places. I lose my grip on sensibility, my systems shut down, and I shiver like a lost child in the night.
And there I stood … in the foggiest of fogs.
Oh, before I go on …
Did you think I was talking about the weather?
My sincerest apologies.
The weather's grand in my little corner of the world these days. Beautiful clear skies with lots of warm spring-y sunshine, delighting the vegetable garden and flowers.
I was lamenting writer's block – a syndrome that creates the thickest kind of stifling fog!
Back to that day …
Staring at a blank page for what felt like eons, my brain fogged up and my eyes fogged over.
Hell! I had fog clogging my veins!
There's nothing like having a writing assignment due in a matter of hours with not one syllable on the page.
A migraine headache would have been far less debilitating.
Just for the record … Quick-witted, I'm not.
And I don't believe in forcing creativity. You may as well try pushing a hippo uphill – with one hand tied behind your back and the other in a cast.
Then an idea rolled in like thunder and struck like lightning! (Bet that happens to you sometimes.) You know. Those ideas that always show up late to the party – fashionably late, that is.
My foggy brain managed to recall a short "visual observation" exercise (a fellow blogger shared with me some years ago) that gets your creative writing wheels spinning.
It's all about turning what you observe into teachable moments – little golden nuggets to share with your readership.
Here's the quick gist:
1.)  Spend ten minutes looking around your immediate surroundings.
2.)  Find objects/knick-knacks/things/stuff/trinkets that represent a concept/lesson/philosophy.
3.)  Show the comparison and share the lesson.
So ten minutes later, here's what I found — along with the *teachable moments I created from the silly odds & ends on my desk:
Large hand-painted ceramic mug, overflowing with pencils, pens, markers, and highlighters.  I don't use or need half of these writing implements.
*Teachable moment: Clean up your act, get organized, and de-clutter your office space for better concentration and less distraction.
Intricately designed wrought iron napkin holder, used to hold my mail and other paperwork.
*Teachable moment: Recycle or repurpose your blog posts, articles, podcasts, teleseminars, videos, webinars, etc., into info products or programs you can sell.
Hat box, imprinted with beach-y scenes of serene and exotic travel destinations.  I keep business cards, postage stamps, calculator, paper clips, greeting cards, etc., in this box.
*Teachable moment: Rest and relaxation, a much needed break from your workspace, or even a formal vacation is essential for your well being and, hence, your success as a solopreneur.
The means for lifting the fog of writer's block was sitting on my desk, staring me in the face. Who knew?!