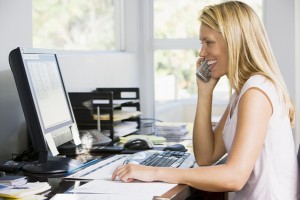 Adopt this philosophy and your life and your business will reap the rewards.
One of the greatest entrepreneurial revelations I experienced was the moment I realized beating my head against the wall was not a requirement.
Building a business isn't supposed to be something that elevates your blood pressure or propels you into psychotherapy.
Struggle is optional.
Instead of climbing up the learning curve with blistered and callused hands (like so many of us did), ask for help.  Help is just a telephone call, an email, a Tweet, or a mouse click away.
Another equally important revelation I experienced was the day I cured myself from "Shiny Object Syndrome".  I stopped in my tracks, came to my senses, and refused to open another email touting "quick and easy" routes to success.  There are none.
Work is required.
My personal definition of "WORK":
W — Write a daily plan of action steps
O —  Organization counts
R —  Rinse and Repeat successful strategies
K —  Keep going!
Not only can you keep your struggles to a minimum, you can eliminate them entirely and get on with the work of building your business.  Take solace knowing every question and conern that has you stumped is something a fellow entrepreneur has already faced and mastered.
What revelations have you experienced as an entrepreneur?

Were you fortunate enough to have a short learning curve or did you climb up the curve with blistered and callused hands?

How have you been able to help a fellow entrepreneur?