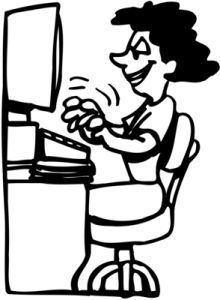 Put your arms down at your sides and give your hands a good shake!
Then raise your arms above your head and wiggle your fingers.
That's not quite enough.  A little more wiggling, please.
Great!  Now you're ready to join the next 30-day blogging challenge starting June 1st – just three days from now.
However, you may need to repeat the exercise above several times during the challenge cause you'll be bangin' away at the keyboard and bloggin' your little heart out!
FREE registration for the 30-Day Blogging Challenge hosted by Jeanette Cates of Tech Tamers.
You won't believe the dynamite members area she's created for all the participants!  Check it out.  It's fabulous.
I just completed my very first blogging challenge a couple of weeks ago and it was the most amazing event with wonderful takeaways.  I can't wait to join in the excitement again!
If you'd like to have the chance to meet some innovative, creative, and super talented experts in their field and some of the finest bloggers you'll ever cross paths with …
Sign Up for the 30-Day Blogging Challenge Right Now!
Build new relationships, be interviewed as a guest expert, and create some opportunities for JV's and other collaborative projects.  This is the perfect opportunity to have tons of fun,  greatly improve your writing skills,  and build your brand – your online identity.
See you there!

{mysig}