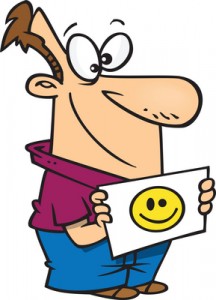 Notice I didn't say, "Rolling in the dough and laughing all the way to the bank!"
NOT the same.  Not even close.
I'm going to wager that my definition of "rich" may be very different than yours.  And what brings happiness into each of our lives is very subjective.
Today's post is an opportunity to shift your thinking and remove money, fame, fortune, and material possessions from the equation.

So when's the last time you had a rich and happy minute?
If you're not sure, here's what personal development advocate  Lyman Reed wrote in his review of "How to be Rich and Happy" by John P. Strelecky and Tim Brownson:
Here's an example:

Sitting in front of the T.V. because you're dead tired from working a 12 hour day at a job you hate?  No Rich and Happy minutes for you (duh).

Watching Lost (R.I.P) on T.V. because you really love the drama, mystery, and intrigue – and don't really care what your wife thinks about the fact that you've seen every episode at least three times?  Now those are some Rich and Happy minutes!

Frivolous?  I think not.

The point is that no one but you can decide what a Rich and Happy minute is. Since reading the book, I find myself asking "Is the time I'm using right now 'Rich and Happy' time?" If it isn't, the awareness motivates me to find something more rich and happy to do.  Or think. Or be.

When you invest your time in ways that both rack up Rich and Happy minutes and move you toward your goals … that's a double extra win!
Read more of Lyman's review here: How to be Rich and Happy and Help Others do the Same and get the details about an extraordinary giveaway!
{mysig}