Prefer to listen to this post?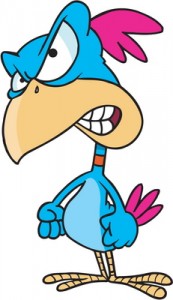 There's a little parrot that sits on my shoulder that criticizes me ALL the time.
Okay, I'll admit it.  I'm neurotic.  I'm a perfectionist.  So what?  There's got to be at least ONE other person like me on the planet!
I take my writing (blogging) seriously.  Is there something wrong with that?  I know I'm not writing a novel, an essay, or a resume.  Oh, darn, there goes that pesky parrot sounding off again …
"Maybe you're just not cut out for this blogging thing."
Wrong.  You're dead wringer wrong.  I AM cut out for this blogging thing.
I just happen to think that proofreading, editing, and re-writing makes for a better blog post.  I might add that proper grammar, punctuation, and spelling count in my book, too.
So is THAT a sin?!
Uh-Oh.  I really wish I hadn't asked that question.  Too late.  Here comes an unwelcomed remark from that blinking bird …
"Oh for the love of God! It's just a blog post."
I've been listening to this parrot forever and when I sit down to start blogging, I'd like to shove an old dirty sock in its mouth!
Oh, brother.  I knew it.  I could feel it coming.  As always, the parrot's got to have the last word …
"You can't be serious.  You're not going to publish THAT, are you?"
Do you have a parrot sitting on your shoulder?  An inner critic?  Or am I the only one?
{mysig}