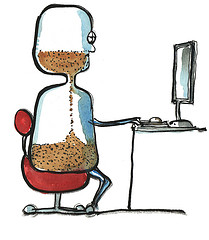 Wouldn't it be nice Just Once! to have something magical happen when you hit the big publish button?
You know what I'm talking about …
You pour your heart and soul into crafting a gem of a post, you hit the publish button, AND …
Hundreds of visitors show up instantly and eagor to devour your post!

Readers start Re-Tweeting like there's no tomorrow!

Authority bloggers proceed to knock your door down wanting to be first to get a guest post!

Everyone hits the Facebook and LinkedIn share buttons!

Requests for interviews come rolling in by the dozens!

Sales go through the roof!

Your subscriber opt in box is getting the workout of a lifetime!

Joint venture partnership proposals are too many to count!

Confetti comes falling down from the sky!  (Okay, we'll skip the confetti.  It's messy anyway.)
That was a magical and fun-filled dream, wasn't it?
You can wake up now.
That kind of magic won't happen till you pay your blogging dues in full.  The fee is pretty steep.   I know.  I've been making regular installments for a couple of years now and I still have a large balance due.
I'm betting you've made some partial payments toward your blogging dues, as well.
Anyone want to tell me what it costs in blogging dues to create the kind of magic I've described?
(*Hint* Blogging dues involve no dollars and cents.)
Photo credit: Frits on flickr