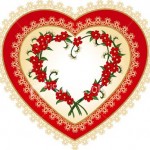 My partner is a real sweetheart.  We've been together for ten glorious years.
He wears a perpetual smile on his face and he's never in a bad mood. 
I don't know how he does it! 
I wish I knew his secret.  He shows appreciation for the littlest things in life and he's as pleasant as the day is long.
He's handsome, too.
When I walk in the door from work, Max greets me with kiss after kiss.  He acts as if he hasn't seen me in a hundred years. 
I cherish his playfulness. 
And believe me, I stop and count my blessings and my lucky stars!
Whenever I've had a particularly trying day, he has a special talent for lifting my spirits.  I'll attribute this talent to his sweet and very gentle nature.
Max adds warmth, joy, and companionship to my life every day.  He's the kind of partner I wish everyone could have.
I treasure every moment with him and I pray he'll be around for a long time.  Oh, by the way, Max is my dog.
HAPPY VALENTINE'S DAY!