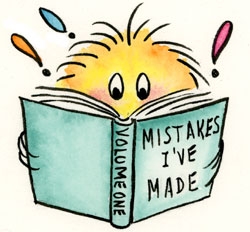 I didn't "ask for the sale" nearly enough times in 2011.
I didn't stay laser-focused on making money this past year — BIG mistake.  As you know, without sales, you can't stay in business.
Believe me, I don't plan on repeating that mistake in 2012.
Does that mean I'm going to pitch, push, prod, and pounce on people at the turn of every corner?
No.
Am I going to include a promotional offer in every blog post and social media update for the next 365 days?
No.
Will I transform myself into an abnoxious unrelenting spammer?
Heavens, no!
But I do intend to work a lot harder on asking for the sale.
What will that work involve?
Raising my level of confidence

Acknowledging my expertise has value

Charging what I'm worth

Targeting the right people

Testing new marketing platforms and modalities

Getting my marketing messages out there in a bigger way

Collaborating with colleagues for joint venture success

Building more brand awareness

Creating more Buzz!
Your turn …
1.  How do you plan to increase your sales in 2012?
2.  What was your biggest marketing mistake this past year?