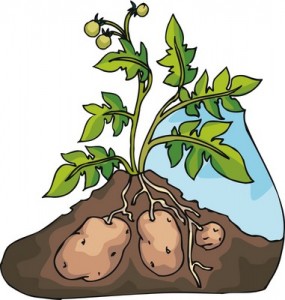 I've got a question for you today I bet NO ONE has ever asked you …
"How do you meet potato people online?"
These are the members of your target audience, fans, followers, and fellow bloggers who add the "starch" and the "thickener" to your social media sauce. 
They're the people who are vital in "congealing" your social media success!
Potatoes spend their life underground.
You may be feeling like the people you need to meet are hiding underground.  Maybe your blog isn't seeing much activity these days and you're hearing crickets chirp when you publish a post.
For starters, you'll want to grab some pointers on how to develop those all-important relationships with other bloggers.  
Kiesha Easley of "We Blog Better" has just the H.E.L.P. you need!  She explains how this four-letter word contains the critical components of builidng relationships online in her article, "The #1 Secret to Getting the Most out of Social Media".
Bloggers form a very special bond and they're some of the neatest potato people around!
Potatoes can be red, yellow, white, purple, and brown and they come in a variety of shapes, sizes, and textures.
You can't expect to have any semblance of success by participating in just one social media activity.  Blogging may be your all-time favorite social media platform and that's great.  It's my favorite, too. 
But you need to create a presence on a variety of platforms if you want those potatoes to come up out of the ground.
Give podcasting a try.  Your target audience will love hearing your voice and it adds a nice personal touch.
Join some groups on LinkedIn that are related to your niche.  LinkedIn is currently the best business-to-business social media venue and the members are very responsive professionals who value interaction.
Create some videos and post them on video-sharing sites like You Tube, Vimeo, Viddler, and One True Media. 
Or you might enjoy turning your blog posts into a series of slides on Slideshare, writing press releases, article marketing, or doing book reviews on Amazon.
Make it your goal this week to meet some potato people and start creating saucy social media success!
Your turn …
What are you doing to build strong relationships with other bloggers?

Do you have a social media success story you'd like to share?

Who are some of the coolest potato people you've met online?