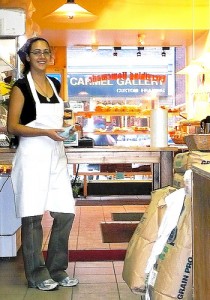 Did you skip Part 2?  Grab that jump rope of yours and skip rope over to I Have Plenty of Talent. If Only I Could Find Customers (or Clients) Online.
Will social media marketing work for you?
You're not going to like my answer but here goes…
"It all depends."
Promoting your talent via social media will work … IF you work it.
Let me explain …
Social media marketers are not lazy people. 
They're tenacious, determined, nose-to-the-grindstone people.
They've done their research and plenty of it! 
They're more than aware of where their target audience is hanging out on the internet.

They've chosen a social media channel or two (or maybe three) and they work those sites … DAILY.
Consider this:
Just because Facebook has a billion users doesn't mean diddly squat if you don't know how to tap into the right audience there.  
And do you know, for sure, your potential customers or clients are Facebook users?!
Your target market may very well be spending their social media hours on Slideshare or Pinterest or Sound Cloud or You Tube or …??
As far as Twitter goes, it's pointless to set out to collect tens of thousands of followers (even though some nincompoop will give you that crappy piece of advice). 
That old adage, "There's power in numbers" does not apply to Twitter.
By the way, my friend and fellow blogger, Martha Giffen, has a great 3-part program called Tweet With Martha if you'd like to become a master at using Twitter for profits.
The bottom line …
I know it sounds like going back to school again, but do your homework if you're serious about marketing your talent online. 
Do the assignment of figuring out which social media channel or channels you need to work. 
Then turn in your homework every day by consistently showing up in those virtual locations to:
Answer questions

Ask questions

Share resources, tools, articles, ideas, videos, music, images, and tips

Offer words of encouragement and inspiration

Collaborate with colleagues

Host a contest, sweepstake, or giveaway

Announce special events of interest to your audience

Actively participate in groups or forums

Share your latest blog post

Make new connections  

And have lots of fun
Comment Box Call to Action:
Are you getting good results using social media marketing?  If not, what is your biggest challenge or stumbling block?
Image credit: http://www.flickr.com/photos/mikeygottawa/2221152288/