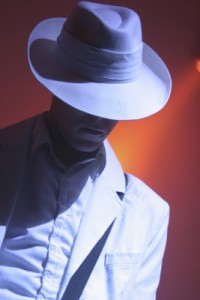 As I always say …
"Begin at the beginning." 
(They don't call me "logical" for nothing)  🙂
But before I dive in, I'm going on the premise you know exactly "who" you're marketing to. 
You've defined your target audience, right? 
What!  Some of you haven't done that yet?  Uh, oh.  Look for some tips in Part 2 of this series. 
Today let's stick to the subject of marketing.
Start by determining the online marketing method/s and platforms you ENJOY most. 
Which of the following statements resonate with you?
I love being in front of the camera

Hanging out on Twitter is really cool.

Blogging makes me happy.

I'm proud to say I can put together an e-course in no time flat.

Article writing is simple and fun.

Teleseminars are my comfort zone.

Creating a press release is a piece of cake.

Podcasting is awesome.

LinkedIn groups are the greatest way to network.

Making a Squidoo lens is a cinch.

I totally enjoy being interviewed.

Answering questions on Quora is the perfect opportunity to showcase my expertise.

Joint ventures can't be beat.

I can write an e-book effortlessly.

Slideshare presentations let my creativeness shine through.

I'm hooked on Pinterest.

The microphone is my friend.

My day isn't complete without a visit to Facebook.

Webinars are my idea of how to have a good time.

I'm the Prince/Princess of Power Point presentations.

Look for a "common denominator" in the statements you've chosen.  That link is a BIG CLUE that will instantly and clearly reveal where you should be focusing your marketing efforts.
One of these four online marketing methods will be the RIGHT one for you:
1.)  Writing
2.)  Speaking
3.)  Video production
4.)  Social Networking
If you get out of bed every morning feeling totally motivated and eager to work on marketing your talent online, then you'll know you're traveling down avenues that will lead to success.  Stick to it!

But if you awaken uninspired to tackle marketing for the day or, worse yet, dreading your online marketing tasks …
STOP doing what you hate and start doing what you love.  Letting your target audience in on your talent shouldn't be painful.  It should be enjoyable.
Comment Box Call to Action:
Share an online marketing method or platform you've tried that didn't give you the results you were looking for.  Why do you think it didn't work?